DataOps is the new lever
Strategize data holistically from ingestion to consumption and make data operations work for you
Data and analytics is the only resort to compete and sustain in hyper competitive markets. Opensource innovation (Hadoop/HDFS/Spark/NoSQL etc) can be leveraged to build applications at a rate faster than usual. Even better when you have an integrated environment that seamlessly works across these innovative open source projects.
We build Dive™ our DataOps platform specifically to address the above key issue where your team can just dive into your data and focus only on solving critical business needs, and release new features/functionality to the marketplace at a faster rate than ever. Our pre-built images integrates across several frameworks (from data ingestion to ETL to ML to BI reports) and depending upon your business and advanced data analytical needs, can be easily customized. With industry standard user management and security features it supports your entire organization's BI journey from data to insights.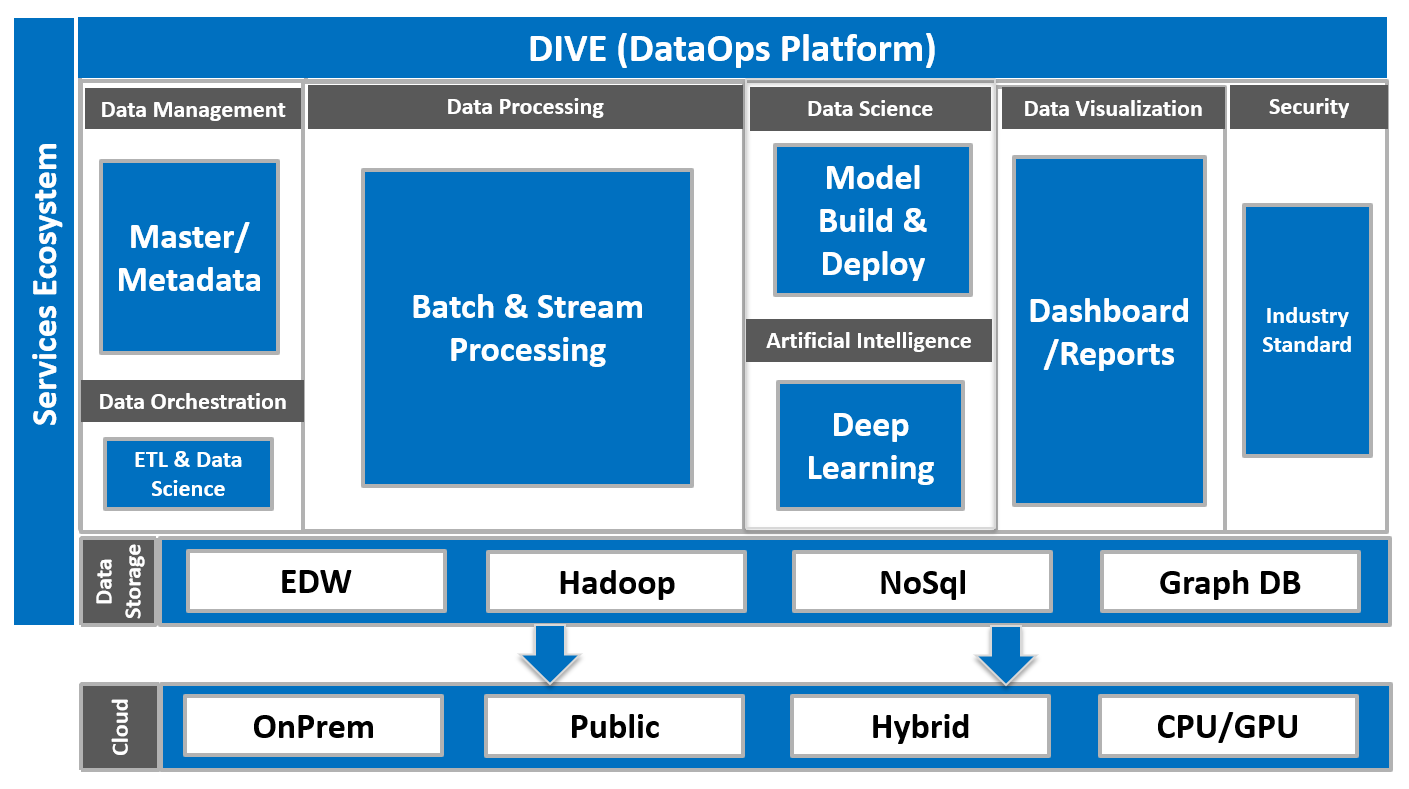 Benefits
Dive offers significant benefits whether you are an individual or if you are part of a large team working for an large corporation or a Startup
Great amount of time and effort is wasted in customization and implementation of analytical models. Explore Dive to see how you can be more effective within your organization
When working in a team it becomes important to get the most from each team member with minimal redundant work and ensuring that knowledge is shared across different team members
Implementation of data driven strategies across the entire organization is paramount to survive in hyper competitive environments. With highly connected customers it becomes necessary to address instantly every potential issues
Pre-Installed with essential services (Hadoop/Dataflow orchestration engine} and data mining tool as per your team's skillset (R/Python/Spark/Knime) or any other tool/service of your choice}
Reliance on other IT teams (Infrastructure) is greatly reduced as data scientists can now access data faster and built analytical data models using prebuilt services (Hadoop/BI dashboards)
Significant amount of time (approximately 40%) is spent in data preparation related activities. Working in an integrated environment provides users capability to access multiple data sources/manipulate data faster thus making time consuming data preparation tasks on petabytes of data a brisk activity
Centralized platform to define, administer and manage security policies consistently across Hadoop & BI components
Orchestration engine provides capability to automate and schedule jobs with interdependent processors as ordained by user requirement
Integration with distributed version control system let's multiple team members contribute to the project at the same time thus making it possible to reap benefits from parallel builds and reusing existing components
Ready to be deployed on Amazon AWS/ Microsoft Azure/ Google Cloud Engine/ On premise or any other cloud provider of your choice
With continuous integration and automated self-testing builds, new analytical Data models can be easily deployed to production while ensuring quality
The cost of fixing a bug exponentially increases the closer it gets to production. With development environment being mirror production environments the probability of finding bugs during deployment and in production environment is greatly reduced
Next Steps...
What are you waiting for? Test Dive™ for Free